The online casino industry is growing in terms of popularity and attracting many players. Jackpotjoy.com is also a well-known casino gaming site that offers a lot of fun-to-play slot games which we'll explain below.
Double Bubble Slot Game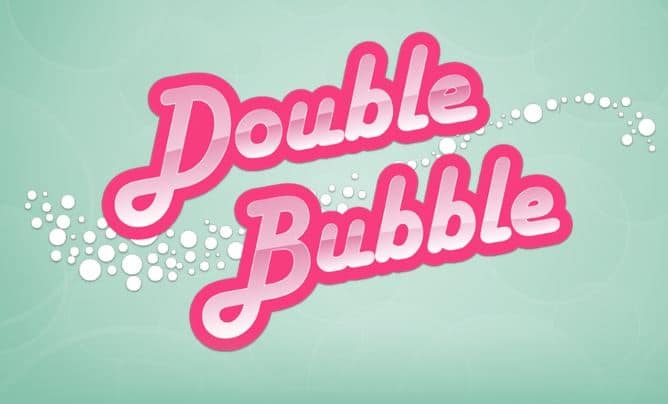 The Double Bubble is one of the top slot games on Jackpotjoy. One of the main reasons for this game to be popular is that it offers a maximum of 20 paylines to play with. The more paylines you get, the higher your probability of winning. But then you will also have to put in more wager before playing.
The wager ranges from as low as 1p to £200. There is a variety of symbols and bubbles that appear randomly on the paylines. When the same symbols appear consecutively on the paylines, you'll win and qualify for a payout. Apart from the normal symbols in the game, there's also a wild symbol.
The wild symbol is unique in that it can be substituted in place of any symbol. On top of that, if you manage to draw five consecutive wild symbols in one single payline, it will give you a payout of 20,000 times the coin value you wagered.
There's also this feature called Bubble Line Multiplier that activates when symbols appear inside bubbles. It will multiply the result by as many paylines that you are playing with. But if you play with all 20 paylines, the multiplier will increase to 22 times.
The RTP (Return to Player) for Double Bubble slot game is 96.02%.
Rainbow Riches Slot Game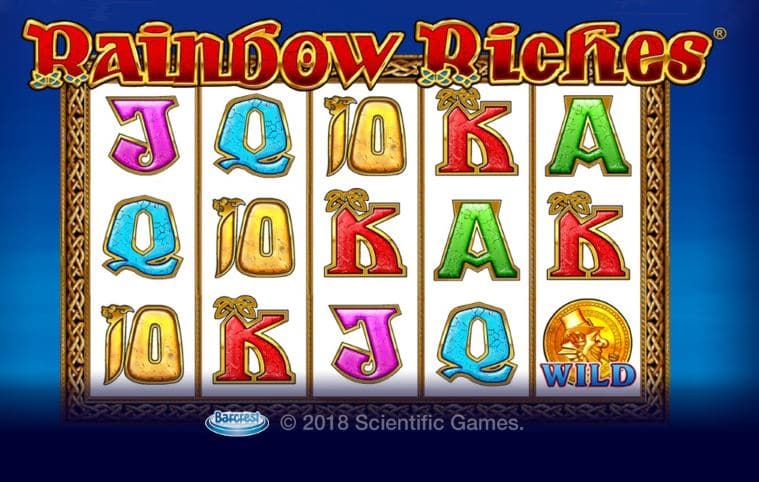 Rainbow Riches is an extremely popular slot game that many seasoned players are familiar with. The bet options in this game range from 1p to £100. This game also offers up to 20 paylines that players can choose from. There are three primary features in this game.
The first feature is the Road to Riches. This feature activates when you draw at least three specific symbols known as the 'Road to Riches symbols'. Upon activation, it will lead you to the golden path game mode. The golden path allows players to climb a certain number of steps. The more steps you are eligible to climb, the more your stakes are multiplied.
Next, there's the Wishing Well feature. As with the previous feature, the Wishing Well also activates when you draw a minimum of three 'Wishing Well symbols'. After that, you will have to select one out of those symbols, and then it will reveal a specific value. This value gets multiplied by your stakes, and the result will be awarded to you.
The last feature is the Pots of Gold Feature. This feature also activates upon drawing a minimum of 'Wishing Well symbols'. After activating, three types of pots will fly across your screen – gold, silver, and bronze-colored pots. After flying for some time they will come to a halt. Then you will have to choose one of the pots. It will reveal a certain value, which then gets multiplied by the total stakes.
Keep in mind that in all these three features, the maximum limit for multiplication is 500 times your stakes. The RTP for Rainbow Riches Slots is 95.00%.
Paper Wins Slot Game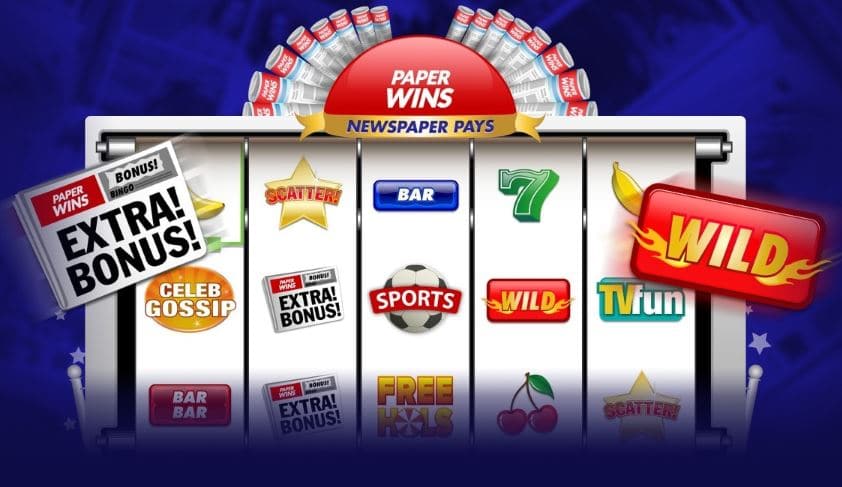 The next top slot game on Jackpotjoy is the Paper Wins Slot game. It offers up to 15 paylines that players can play with. You can choose a bet value from 1p to £150. There a few special modes and symbols in this game.
One of the unique symbols is 'Scatter symbols'. They will multiply your wins by a certain amount depending on how many symbols you get. The multiplying rates are 3 times for 2 symbols, 12 times for 3 symbols, 25 times for 4 symbols and 50 times for 5 symbols.
Next, there are 'Bonus Symbols'. These symbols will only land on the first three reels. If you get three of these symbols in a payline, it will activate the Pick Bonus. It will showcase some stars on the screen, and they can award you one out of three rewards. The first reward is that you'll get a certain amount of free spins to spend on slot games. Another reward is a* special multiplier that will multiply the wins you get from free spins. The final reward is that it will activate a 'Free Spins Bonus'.
Free Spins Bonus is a special mode where you get a fixed number of spins. The catch is that in this mode, your wins are always multiplied. A 'Newspaper' symbol can also appear in this mode. Three Newspaper symbols restart the Bonus mode with the same amount of free spins you received when you first started this mode.
Lastly, 'Wild Symbols' are also present in this game. Just like in the Double Bubble game, Wild Symbols will serve the role of any other symbol in the paylines. However, they don't work as a substitute for Bonus or Scatter symbols. If you're lucky enough to get 5 Wild Symbols in a single payline, you will win 10,000 times the coin size.
The RTP for Paper Wins Slot is 94.95%.
Tiki Island Slot Game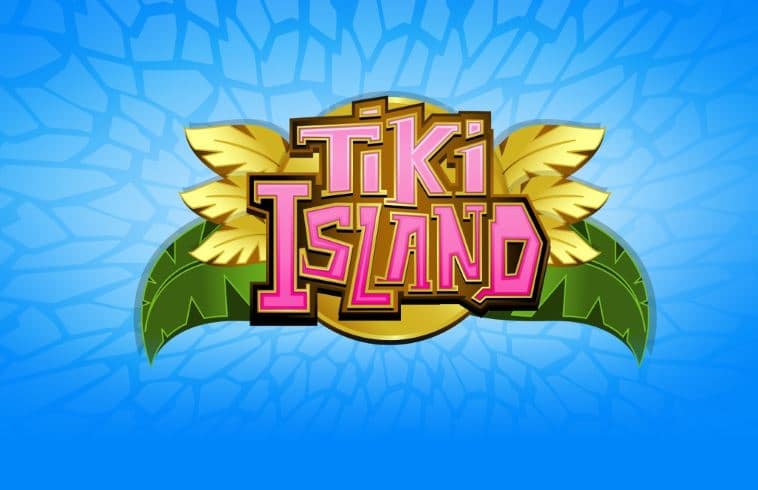 Tiki Island slot game also offers the player a maximum of 20 paylines, with bets from 1p to £200. As the name suggests, the game and its features follow an Island-based theme.
The first bonus feature is the Puffer Fish Bonus. It activates when you draw three 'Yellow Puffer Fish Symbols' on the paylines. When this bonus mode activates, the interface will change to an underwater sea-theme. You will see three Puffer Fish of different colors on your screen and you have to click on any one. Upon clicking, it will award you a random amount of coins. But if the Puffer Fish you select does not contain any coins, this bonus mode will end right then and there.
Another feature in Tiki Island is the Tiki's Nuts Bonus. To activate this bonus, you must draw three 'Coconut Symbols' on a payline. Upon activation, you will see some coconuts displayed on the screen. When you click on one of the coconuts, it will award you certain coins. Just like the previous feature, if the coconuts don't contain any reward, it will immediately terminate the bonus mode.
Tiki Island also has the Scatter Symbols feature. They multiply your wins in the following manner – getting 3 Scatter symbols will multiply your wins by 5 times, 4 symbols will multiply it by 20 times and 5 symbols will multiply the wins by 100 times.
Lastly, there are the Wild Symbols that can act in place of any other symbol barring the Scatter, Puffer Fish, and Tiki's Nuts symbols. Getting 5 Wild symbols on a single payline will award you 10,000 times your coins, but it's going to be very rare.
The RTP for Tiki Island slot game is 95.73%.
Arcade Bomb Slots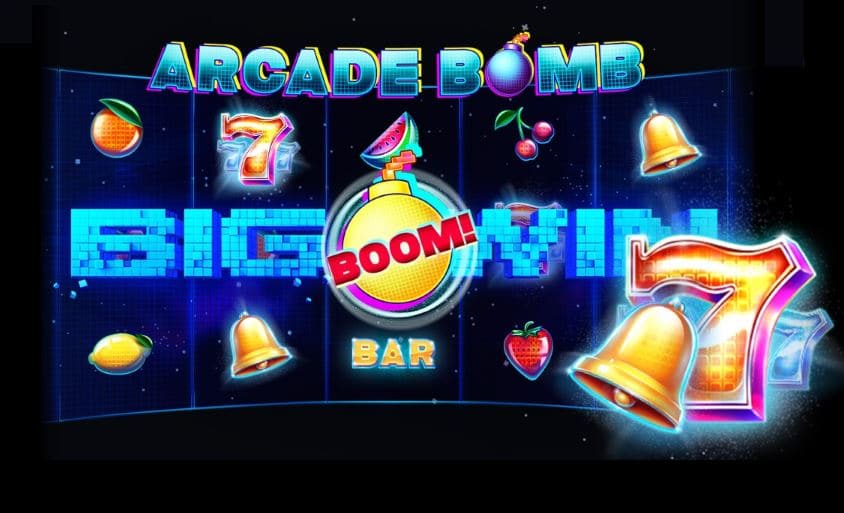 Arcade Bomb slots offer an 'explosive' experience (figuratively, not literally). The bets in this game range from 20p to £20. There are a total of 20 paylines that are fixed in this game. You can't change the number of paylines. The low bet amounts and fixed payline feature seem like a downside compared to the previous games. But Arcade Bomb makes up for it with unique playing experience.
In this slot game, you will find Reel Bombs appearing randomly on the paylines. The bombs have four different colors and each colored bomb has a different way of exploding. Yellow bombs explode vertically, blue ones horizontally, green ones in a plus (+) shape and purple bombs in cross (x) shape.
The bombs have a countdown value which drops with every spin. When the countdown runs out, the bomb will explode in its designated pattern. If another bomb falls in the radius of an exploding bomb, it will explode too. After exploding, all the slots that lie in the exploding pattern will change into one single but a random symbol.
Arcade Bomb also has a Jackpot feature. If you get three jackpot symbols on a reel, it will activate the Jackpot Game. Here, you can win higher rewards if you place higher rewards. But since the rewards are high, so are the risks.
Arcade Bomb has an RTP of 96.22%.
Jackpotjoy Registration Process and Welcome Bonuses
When you go to the Jackpotjoy.com website, you will see the Join Now option in the top right corner. Clicking on it will redirect you to the registration page. First, you fill in your details (name, contact details, location, etc.) and submit them. After that, you have to enter your account details and select your preferred mode of payment.
Finally, you'll have to go through the terms and conditions and accept them and verify your details with an email confirmation. And just like that, your account will be ready and active in a few minutes.
Moving on to welcome bonus, there's only one offer available at the time of this writing for slot games. After registering successfully, a new player becomes eligible to receive 30 free spins. But they can only be used for the Double Bubble Slot game.
To receive the free spins, you must need to complete two more requirements. First, you need to make a minimum deposit of £10, and also wager the £10 on any game within 30 days of making the deposit. The Free Spins may take up to 72 hours to get credited to your account.
New members only, must opt in. Min £10 deposit & wager. 30 day expiry from deposit. 18+. Free Spins: on Double Bubble. 1p coin size, max lines. Bingo: Advertised ticket value based on £1 tickets. Game availability & restrictions apply.
Jackpotjoy Frequently Asked Questions (FAQs)
What are RTPs in slot games?
RTP, an abbreviation for Return To Players, is an average value that shows what percentage of all wagers are paid back as winnings. Here's how RTP is calculated:
RTP = Sum total of all wagers made in a game/Sum total of all payouts won by players in the game x 100%
However, this is an average value and works as an assumption, not as a guarantee for winning.
What happens if I lose internet connectivity during a game?
In the unfortunate event of getting disconnected amid an ongoing game, your wager will remain valid and the game will progress. If your wager bags a win in the process, it will also be credited to you. Once your connection is restored, you can check the status of the game in the 'Game History' page.
What verifications are required to activate my account?
Email verification is required from the player's end to activate their account. Players also need to submit scanned copies of some basic documents, of which they will be informed by our representatives during the registration process.
How many slot games are available on Jackpotjoy.com?
As of , there are 200+ slot games available for playing on Jackpotjoy.com.
Under which organization is Jackpotjoy.com licensed and regulated?
Jackpotjoy.com has received its license and also regulated by the Gambling Commission in Great Britain. Their license to operate in regions outside Great Britain is given by the Government of Gibraltar and regulated by the Gibraltar Gambling Commission.
Published by Victoria |
20-04-2020