Jackpotjoy is famous for Poker games, and in this article, we will explore the top poker games that the platform is known for. Let's get started.
Three Card Poker
It's a popular casino game that offers huge winnings. The usual chip size ranges from £1 to £500. So, whether you are a heavy hitter or casual player, you can enjoy the game either way.
How to Play
The main aim of the game is that you have to beat the dealer by a better three-hand card in three card poker.
You can place ante bets. If you like, you can also place bonus bets for 6 cards or optional pair plus. The dealer will deal three cards, and he will receive three cards face down. If you are confident about the cards in your hands, you can click the 'Play' button and place another wager that is equal to the original ante bet you placed.
If you don't like your odds, you can fold your hands at this point, and you won't have to place any further bets.
Different Kinds of Bets
The Ante bonus payout can be played for straight hands, three of a kind of straight flush. The usual payout for straight is 1/1 and the others are consecutively 4/1, or 5/1. The optional pair plus offers the same odds on these bets.
The 6 card bonus payout is a little different. The straight hand offers 10/1, and the three of a kind provide 7/1 payout. You can also play flush, full house, royal flush, or four of a kind. The royal flush offers a whopping payout of 1000/1.
Return to Player
RTP of this game is about 96.63%.
Ultimate Texas Hold'em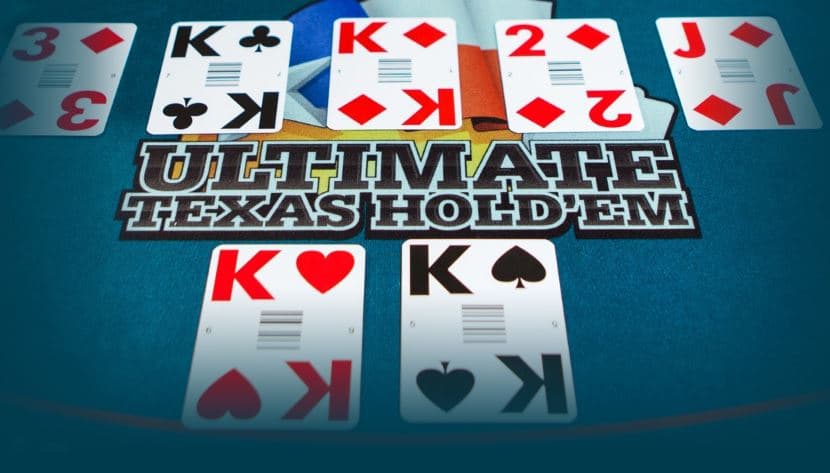 In this game, you are going head to head with the dealer. The game rules are a little complicated and not recommended for players who have never played this game. However, if you are trying to learn the rules, you can start with the smallest chip size of 50c. Heavy hitters have the option to bet up to £2,000.
How to Play
The game can be played by unlimited numbers of players at the same time. There is a standard 52 card deck, which gets properly shuffled after every game.
Your aim in the game is to create the best possible 5 card hand that will be able to beat the dealer. Hands are made of a combination of your two cards and 5 community cards.
In each game, you can raise once every 3 different opportunities.
Different Kinds of Bets
To start the game, you have to place an ante bet and a blind bet of the same value. You decide what the ante bet is, and the blind bet gets automatically placed for you. You are also allowed to place optional Trips bonus bets. This bonus bet is decided on a range of poker hands.
When you have made the final decision in the game, the dealer will reveal their cards. The best hands get compared automatically and the winner is selected.
Return to Player
Return to Player is about 99.47%
Caribbean Stud Poker
The Caribbean Stud Poker game is famous for the progressive jackpots in the games. Players can bet anything from £1 to £150.
How to Play
You and the dealer, both will receive five cards. The final card the dealer receives will be placed face up. If you have played a bonus bet, you will receive the payout at this point. After this, you can choose to fold or raise your hand.
If you decide to raise, then whatever original bet you placed will have to be doubled and your hand will be compared to the dealer's hand. If your hand is better than the dealer's hand, then you will receive a payout depending on the paytable.
However, for your raised bet to be accounted for, the dealer's hand must qualify. If the dealer does not hold at least one Ace or King, then the bet does not qualify. In this case, you will be awarded even money on the ante bet, and you will also be winning a fixed-odds amount based on the paytable of the game.
If you fold, you will lose out on your original stake.
Different Kinds of Bets
You can place ante bets between £1 and £150. Any bonus bet you place will cost £1 fixed and must be made before you have been dealt the card. From this £1, 70p will go towards the progressive jackpot. Three bonus bets get paid before the dealer's hand has been revealed.
Return to Player
Return to Player is about 97.45%
Ultimate Video Poker
There are over 10 variations of the Ultimate Video Poker and the bet placement chip size ranges from 1c to £126.
How to Play
In the ultimate video poker game, you have the following games to select from: Aces & Faces, Deuces Wild, Deuces & Joker, Double Bonus, Double Double Bonus, Jacks or Better, Jacks or Better Progressive, Joker Poker, Tensor Better, and Triple Bonus.
You have the option to play 1 to 25 hands in any of these. The idea is that you have to create as many winning hands as possible by retaining the best cards from the original hand by helping others. You can click on the 'Hold' button to hold the cards you want to keep, or you can click 'Draw' to turn all the games that are kept face down. When you click the 'Turbo' button, it will select random cards and turn them over.
Return to Player (RTP)
The Return to Player can vary from 96.77% to 99.54%.
Casino Hold'em
Casino Hold'em is an extremely fast-paced poker game. Players can bet anything from £1 to £500 in available chip sizes.
How to Play
The game starts with the classic 52 card deck. You have to place an ante bet, only then the game can start. You can also choose to place a bonus bet at this point.
The dealer will deal out two cards. And the dealer will also receive two cards, face down. After this, the dealer will place three community cards. These three cards are common between you and the dealer when any of you is trying to make a complete hand.
Once you have dealt the initial cards, you can either call the hand or fold.
If you click on the call button, you will first have to double the ante bet. If you choose to fold, you are giving up the original ante bet you have placed.
If you choose to call, your hand will be compared with the dealer's hand. The dealer's hand must have at least a pair of 4s or it won't qualify, and you will be given bonus amounts.
Different Kinds of Bets
The ante bet is placed at the beginning of the game. It can be anything from £1 to £500.
You can also place optional bonus bets. It is placed the same way you place the ante bet; however, it cannot be placed alone.
Return to Player (RTP)
Return to Player is about 97.84%.
Sign-Up Process And Welcome Bonus at Jackpotjoy


To sign up, head straight to the official website. You will have to enter email id, and various personal details like name, birthday and country. Next, you will be asked to fill up account details, such as creating a username and password. Once you have completed the initial steps, you will be eligible to open the account. You don't have to make a payment at this stage, but you will have to fund your account if you choose to start playing.
Remember to select the bonus offers at this stage. If you do not select the bonus offers while signing up, your choice will be locked, and you cannot further qualify for it.
The welcome bonus will give you two options:
You can get 30 free spins with 1p coins for the Double Bubble game.

Or you can opt for the 50 free bingo tickets on applicable games.
Deposit and wager at least £10, within 30 days from opting to qualify for the offers.
New members only, must opt in. Min £10 deposit & wager. 30 day expiry from deposit. 18+. Free Spins: on Double Bubble. 1p coin size, max lines. Bingo: Advertised ticket value based on £1 tickets. Game availability & restrictions apply.
FAQ on Eligibility and Exclusivity
What games are excluded from the free bingo tickets promotion?
Session Bingo and Playoff Palace are not applicable for this promotion.
If any of the rules are amended after I have opted for the promotion, will my tickets get voided?
No. if you opted for the welcome offer before the amendment has come into effect, you will still be eligible for the offer.
Can an existing player access the free bingo tickets offer?
No. This is available for new players only. If it is detected that any player created a new account for accessing the offer multiple times, their accounts will be suspended and all free spins, bonuses, and coupons will be withdrawn.
Published by Victoria |
20-04-2020