18+ | Commercial Content | T&Cs apply | Begambleaware.org
If bingo is your passion, the one thing you're guaranteed is plenty of choices when it comes to places to play! Most towns have at least one bingo hall for real-life play.
There are also dozens of online sites offering an incredible array of different rooms, spectacular prizes and engaging online chat. The big decision has got to be which one offers the best entertainment? Torn between hitting the town or spending a night in to enjoy some top-quality online play? Our handy guide will give you everything you need to make the choice that's right for you.
The popular game of bingo was once a game strictly limited and reserved to bingo halls, family living rooms, churches and local clubs amongst many others. It was a game that brought together family and friends around a table to enjoy a banter. It was above all a social game where people could have a chat while playing, relax and have fun.
But with the inception of the World Wide Web, this game is now travelling the four corner of the world and reaching people straight in their homes. The internet has made the game of bingo more popular than ever and people of all ages enjoy the challenge that the game brings. Most importantly it is a game that is played by millions of people around the world, anytime, anywhere.
What are the advantages of playing online bingo compared to playing at a bingo hall? While some older generations still prefer to play the old fashioned way at bingo halls or at their local church, the biggest majority of players these days prefer logging online to take advantage of the many benefits on offer at online bingo sites.
Here, we shall highlight some of the biggest advantages of playing bingo on the web.
Bingo is no longer the reserve of the blue rinse brigade. Large bingo clubs have worked to increase the game's appeal across a wider age range. The benefits of this move are not only felt by the bingo clubs but are also reaped by online bingo providers. But, which is better playing bingo in a club, or playing online? There are pros and cons to both that need further examination.
Playing bingo is not just about the game and the opportunity to win big; it is also about social interaction. When you play at a club you can meet up with friends. There is also the chance to meet new people and share in the highs and lows as people win or lose. There is a full range of emotions on show at any given time that provides a human context for the game.
Of course, this is exactly why some people prefer to play online. By playing online they can enjoy the highs and lows of the game without having to share the interactions. Online games do come with chat rooms, messaging boards and the like, but the player can turn off or ignore them. Doing this in a club is rude and unacceptable. But, online it is acceptable not to answer a ping, or message, or to say you don't want to be social. Whether sociability is a pro or a con, depends on your mood at the time and your tolerance for the social niceties.
Minding Your Money – Safety
Worries about sharing information, particularly payment information are nothing new. Unscrupulous individuals have always looked for ways to make money from others. Does this make clubs safer? Well no, it doesn't.
Let's say, for example, you have been going to the same club, at the same time and by the same route for months. Finally, you win a reasonable amount of money. It's not enough for a fancy cardboard cheque or a world cruise, but it's enough to make you smile. Only you're not the only one smiling. Handbag snatched don't take long. If you are not the most security-conscious the potential thief may not even wait for you to leave the club.
Securing your Safety
There are steps you can take to secure your winnings and ensure your safety. Start by keeping your bag with you always. Getting someone you trust to take you home, or to your car are other ways this is achievable. And, although the methods are different, the same theory applies online. Only provide your card details on a site that have suitable security encryption in place. Don't brag about big wins and have good anti-virus software in place. If you follow such advice, then there are few, if any cons to finding for either online bingo or bingo clubs.
Minding Your Money – Overspending
Bingo is a form of gambling, and as with any gambling, winning is not guaranteed. This means there is always the risk of losing money. Bingo is often seen as a safer form of gambling because you buy a set number of tickets, play the games and then go home. The number of tickets you buy is set by the amount of money you have at the beginning of the session. The number of books or tickets that you can watch and mark within the required time frame also play a role.
Yet, there is little to stop people from going to more seasons or playing side games during intervals. There is also always the call of the slot machines that are present in most bingo clubs. The ways to overspend at a bingo club are many and various.
Overspending Online
Does this mean then that the safest way to mind your money and not overspend is to play online? Online gambling is a contentious issue, and most of the concerns apply as easily to online bingo. It is very easy to gamble online, regardless of your age or financial status. All you need is a debit card and to be able to set up a profile. Then enter a date of birth or tick a button that confirms you are of legal gambling age.
Online bingo is on offer all day, every day. There is little time to wait until your next gambling fix. If you don't win one set of tickets you can buy more for the next game. There are also often other games to play. And with some sites offering tickets from 1p it is easy to spend more than you realise. Does this make online bingo bad? No, it doesn't. As with any form of gambling you need to go in with the mindset of not spending any more than you can afford to lose.
Benefits of Bingo Bonuses
Online bingo bonuses provide players with a range of benefits. There are sign up bonuses, as well as deposit bonuses. There are also those designed to get you playing again if you have been away for a while.
Loyalty bonuses can make all the difference
Online bingo UK-wide not only wants to attract new customers, it also wants to keep them! Competition among bingo sites is stiff, which is why there are plenty of customer loyalty programmes out there to enjoy. These vary in format but generally involve collecting points (some sites have gems, tokens or similar) every time a deposit is made. When enough points have been collected, they can be swapped for credit to play with or sometimes used for promotional offers. Loyalty bonuses are usually confined to online play and can bring some welcome benefits to players who deposit regularly.
Bingo Club Bonuses
Bonuses at bingo clubs do exist, but they are harder to come by. You often need to be a member already to enjoy a bonus set of tickets. You may get a bonus if you bring in new players, or if you have been absent for a while. When it comes to bonuses with pros are with the online players.
Whether making sure you've got your dabbers in your bag or putting on your glad rags ready for a night out, preparing to play at a bingo club requires some planning and preparation. From finding out when the sessions are held through to remembering to take cards or cash with you, there are many steps to take before you can be out there and play. In comparison, online bingo requires little preparation – just log on and there will be a game starting shortly. Most sites accept a wide range of payment methods, so if you haven't got your card handy, you can often pay via PayPal or using a bank transfer.
Accessibility and ease of play
Although live bingo is a breeze for experienced players, if you're new to the game or prefer to take your time, then online bingo may be your best choice. The virtual play has an automatic option, so if you're a little slow or need to take a break for a minute or two, your tickets will still be marked without your input. The virtual play is also easier if you suffer from visual impairments, hearing problems or other disabilities which make a visit to a bingo hall for live play a significant challenge.
Promotions can make all the difference
One of the real benefits of online play is the enormous range of promotional offers that are out there. Real-life bingo clubs sometimes have two-for-one or extra cut-price tickets (and even occasionally free bingo with cash prizes), but offers such as, "Deposit £10, play with £50" or even, "Deposit £10, play with £60" are confined to online sites. Online sites also often hold "two-for-one", "buy-two-get-the-third-free" and other discounted ticket offers. That's beside seasonal promotions which provide free play to celebrate everything from Guy Fawkes to Easter!
Prizes and Jackpots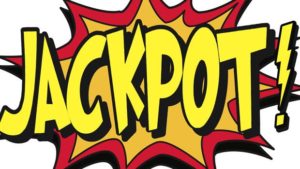 If winning big is your dream, a game of bingo could well give you your chance! Jackpots can run into hundreds of thousands of pounds, particularly on the larger, national games. Both real life and online games can give you access to significant prizes, as well as the opportunity to win many smaller cash sums. One of the benefits of bingo hall play is that non-cash, "fun" prizes are also offered from time-to-time. For example, the chance to win chocolate eggs at Easter or boxes of chocolates near Mothering Sunday.
Welcome offers and promotions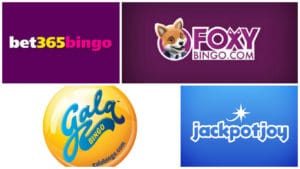 With so many online bingo sites competing for your attention, it comes as no surprise that many sites go out of their way to have the best welcome offers for new sign ups. After all, players do shop around for the best signup offers and promotions.
Some bingo sites offer free bingo tickets or else bonus cash that is equal to your first deposit. For example, if the welcome offer is a 200% match bonus, you will receive £30 in total if you make a deposit of £10. That's triple the value of money you have put in. This great opportunity allows you bigger and better chances to have a shot at winning money.
We always recommend that players look at the bingo sites' offers when looking to choose a welcome bonus. Shop around and see if it's worth signing up to one site instead of another. Most importantly, take a good peek at the terms and conditions so you don't end up missing out in the end.
The bonus money you gather from the welcome offer is not just an incentive to get you to sign up but it also gives you the golden opportunity to get try out the games and to familiarise yourself before you plunge in and playing with your own money.
If you have never played bingo before, then it would be best to use your bonus money to play for 'free' without risking your own.
Ambience and sociability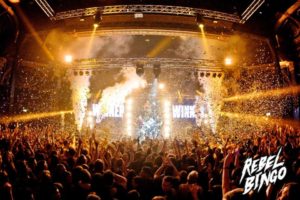 One of the most obvious benefits is the fact that you are not constrained to the times of a bingo hall. When it comes to online bingo you can play anytime, anywhere provided you have an internet connection. In fact, it gives the player more flexibility and freedom when it comes to playing. You only need to turn your desktop computer on or your mobile phone to start playing.
There are many online casinos that offer bingo. Some offer mobile apps that can be downloaded to be accessed either via your smartphone or tablet. You are no longer confined to playing indoors and instead, you are free to enjoy the outdoors. Whether you are bored at some office meeting or else you are on a long bus journey, you can just whip out your phone and try your luck and bag some money.
What is the point of winning £10 at bingo when it will cost you nearly twice as much to travel there by bus or car and to pay for the tickets? When you play online, you don't have to worry about the costs and the inconvenience of going there, which means you will be paying much less in expenses so you can spend more on bingo tickets.
With the cold winter snapping at your heels, why leave the comfort of your own home when you can just play online in your favourite pyjamas by a roaring fire. If you think you are going to miss out on the social aspect of the game, think again. Many bingo sites have numerous experiences players playing so you can enjoy a chat, share tips and other banter.
Also, bingo chat moderators turn to run games in the chat room where you can win yourself some bingo tickets for free.
Although many people enjoy the atmosphere of live bingo, the pace of the online chat that accompanies virtual bingo also provides a fun-packed, enjoyable experience. During a live game, it's "eyes down" and silence during the play. During online play, the chat often continues unabated, particularly if players are using the automatic play option. Online chat hosts also host "side bets" and competitions, offering small prizes for answering quiz questions or brain teasers in the chat room. Particularly if you frequent the same virtual bingo hall at the same time each week, it's possible to catch up with a few regulars and enjoy a chat in much the same way as you would at a real-life bingo hall.
The chat room lingo
Although in bygone days bingo callers were renowned for their "bingo lingo", if you go to a live game today, the callers state the numbers and following play is straightforward. In contrast, for many online players, the challenge comes not from the play but from following the online chat. There are many acronyms and phrases which are almost unique to the chat and that can take a while to get used to. That said, chat hosts are invariably welcome and courteous; most people find it's not long before they get up-to-speed with the common abbreviations and are joining in with everybody else.
More competition online
Depends on how you look at it…but one of the great things about playing this game online is that there is more competition. How so? The internet has brought the world closer together so people from the four corners of the world come together to play bingo. As we have mentioned in another article, there is no real competition here since bingo is a game of chance but the more people, the merrier. You will be able to meet some expert players and meet players from different countries.
You won't even have to worry about their foreign accent as you will be able to chat online. If you play on some foreign bingo sites, the game might be slightly different to what you are used to. There are some variants of the game out there, with more or fewer balls to play and various chances of winning prizes.
Bigger and better payouts
Since online bingo sites don't rent or buy physical premises and need to recruit fewer employees, it usually means that they can afford to offer their players much bigger cash prizes. Sometimes they run jackpots on their games which could see a lucky player walking away with hundreds, if not thousands of pounds.
Let us just put it this way! When you play online and Lady Luck is watching over you, you can expect much bigger cash prizes than if you had won at a bingo hall.
Sign up today to an online bingo and start playing your favourite game.
Finalising the Verdict
So, what is the verdict? Should you play bingo online or join on of the multitude of bingo clubs that operate nationwide? There isn't much to tell them. Both are safe if you take the right precautions. Both can be good fun if you gamble responsibly and set your limits. So, much depends on what it is you are looking for. If you want the hustle and bustle of physical social interaction opt for a bingo club. If you want peace and quiet, or the ability to opt out of conversations and focus on your bingo, then online is the way to go. Online bingo has the advantage of being there when you are ready. And you don't have to get out of your PJs to play; that's one definite pro.
Compared with bingo halls, bingo online offers a different but enjoyable experience. Which offers the best option depends on personal preference. Both can be enjoyed cheaply and each gives the opportunity to spend time with like-minded individuals. There are also plenty of opportunities to be in with a chance of winning, with prizes ranging in size from a few pounds up to hundreds of thousands.
At real-life venues, players can often take advantage of slot machines and side games; the same is true of virtual sites, where bingo is just one of the games on offer – players can often play the slots as well as access casino games. Whether you choose to play online or opt for a few games at your local bingo hall, bingo remains the exciting, engaging entertainment it's always been. 
Published by Victoria |
05-05-2019