Jackpotjoy is exclusively known for its impressive collection of Bingo games. In fact, it started as a Bingo-only casino website before diversifying into other niches. If you're looking to sign up for Jackpotjoy as a new player, then here are top five bingo games that you should try.
Bingo Royale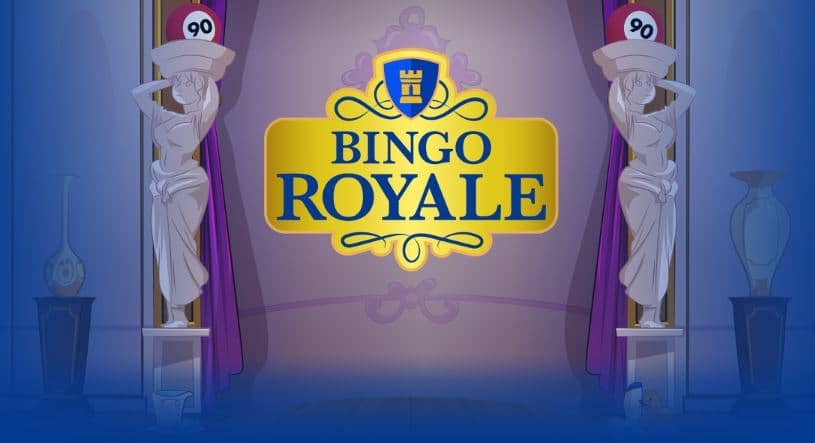 This is perhaps the most popular bingo game on Jackpotjoy. Provided by Gamesys Software which is a leader in Bingo software development, this game is a 90-ball Bingo variant.
Bingo Royale, just like other bingo games, is straightforward to play. All you have to do is click on the bottom of the page where it says "Buy Tickets". This will open up a window within the game where you can select the number of tickets you want to purchase.
You can select one at a time or at random. It is recommended that you buy at least 6 tickets which will make you eligible for bonuses like Balloon Pop, Bungee, and Sumo Bonus. However, you'll get to enter only one bonus round where you can win 12 free tickets for the next round.
Once the game starts, there are a few instances that you should keep your eyes open to. First is when the Queen comes to her palace and issues a Royal Pardon. This will increase your winning potential significantly by calling for more balls.
If you hear the barking of the Royal dogs, this indicates that you will be getting extra balls. They can bark up to five times in a single session. The total size of the jackpot mainly depends on the number of players taking part in the game since a small piece of each stake goes into the jackpot.
If you manage to complete 36 balls or less, you will avail of what is called "Super Jackpots" which range from £1,000 to £25,000. The grand prize is directly proportional to the ticket price of the game. Higher the price, higher will be the prize amount.
Superlinks Bingo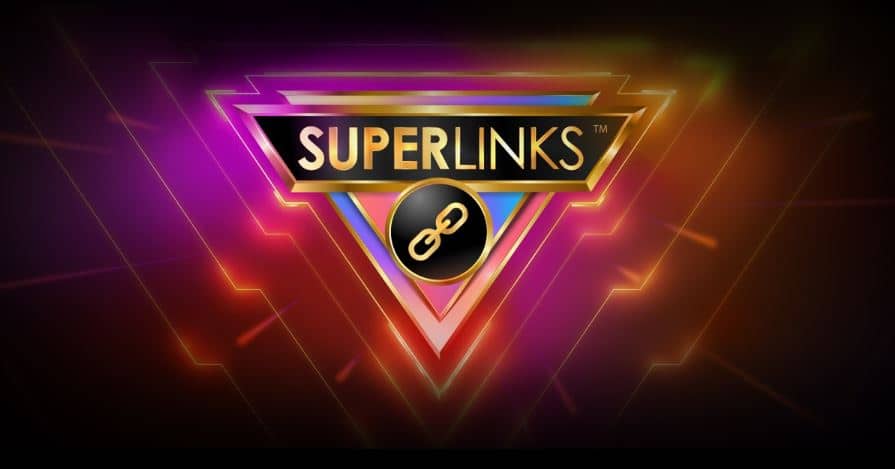 Superlinks Bingo is another 90-ball bingo game that you must play in Jackpotjoy. The game is covered and advertised by many other online casino providers which testify its popularity among bingo players.
You can purchase the tickets by hitting the "Quick Buy" button and select the number of tickets you want to purchase. The simplicity of bingo games is what makes them so appealing. After you have purchased the tickets, you don't even have to stay logged in. The tickets and its numbers are systematically tracked and you'll be awarded accordingly.
Just like Bingo Royale, you'd be able to trigger Super Jackpots that can award up to £25,000 cash. If you manage to call Full House within 38 calls or less, you'll get the largest percentage of the prize money while the rest is distributed equally among other players. Just look for the SJ symbol which indicates that a particular game is eligible for Super Jackpots.
Superlinks Bingo also has one of the highest RTP which is between 80-85.45%. If you want to get in touch with your fellow Bingo players, then there's a chat room that is accessible the entire time the game is on. This game, in particular, works great across all platforms and you can enjoy it seamlessly on mobile.
Game Show Bingo
This is a recently-added bingo game to the Jackpotjoy bingo roster and is made available only in May of 2019. This is also a 90-ball bingo variant and the format is pretty much the same as Blox Bingo if you have tried it. If not, here's how it looks like: You get to play a usual 90-ball game using the tickets purchased. This is then followed by a bonus round which you are only eligible to enter if you have purchased six tickets or more.
The three different bonus games are Sumo, Bungee, and Balloon Pop. In each of these bonus rounds, your skills are tested. In Sumo, for example, you're required to hit three sumo wrestlers with different color balloons. In the Bungee game, you need to collect boxes and so on.
The bonus rounds are then followed by a Community-based Progressive Jackpot round. If you call house within 38 calls, 50% of the jackpot amount is your and rest is divided among other members. There's also a 51 Super Jackpot and the call is 51 or less. The winning potential is 1000X the ticket price.
This is inspired by late-night Bingo TV shows which you must have seen. Game Show Bingo is simply an online version. The bonus rounds are what makes Game Show Bingo special. So definitely sign up for it. The RTP is somewhere between 80.99-85.45%.
Crystal Maze Bingo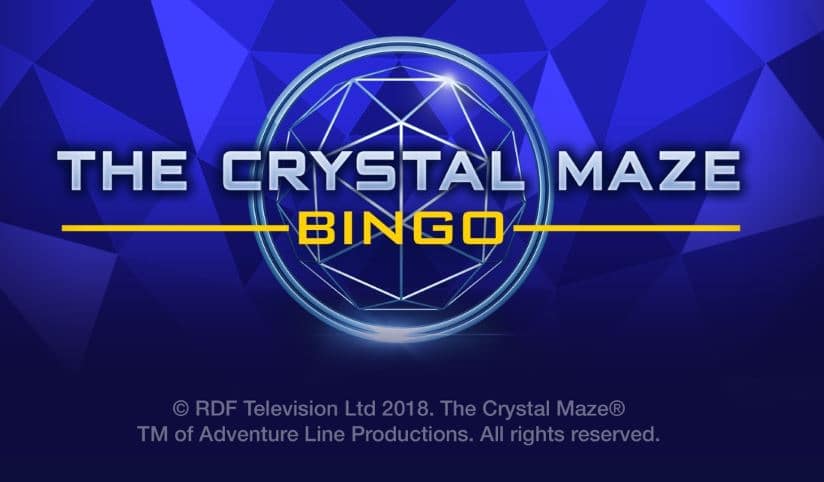 Developed by Gamesys, this is another TV game show-inspired bingo game available on multiple online casino websites including Jackpotjoy. The theme of the game along with the graphics is what makes Crystal Maze Bingo stand out from the rest.
A variant of 90-ball bingo comprising of a three-line, 15 number set, you aim to be the first to complete all the numbers in one-line, two-line, or full house. There's a progressive jackpot that can award you £1,000 if you bingo it within 38 calls.
There's also a feature round that succeeds the game. Unlike other 90-bingo games, in this round, anyone with a ticket can participate and is not limited to full-house winners. This round draws some inspiration from Crystal Dome which is also part of the original TV show.
After you have pressed the button, you have 30 seconds to score as much as you can. In the online version, you do this by tapping on the gold and silver notes. But don't click on the silver, they subtract your points! Score at least 25 points to get a free ticket. Next tickets are awarded at 40, 70, 100, etc. You can play solely or as part of a community.
The game, despite being the usual 90-ball bingo, feels different primarily because of the changing background and music. There are four zones, namely, Aztec, Medieval, Industrial, and Futuristic – each with their own relevant theme and graphics.
Sapphire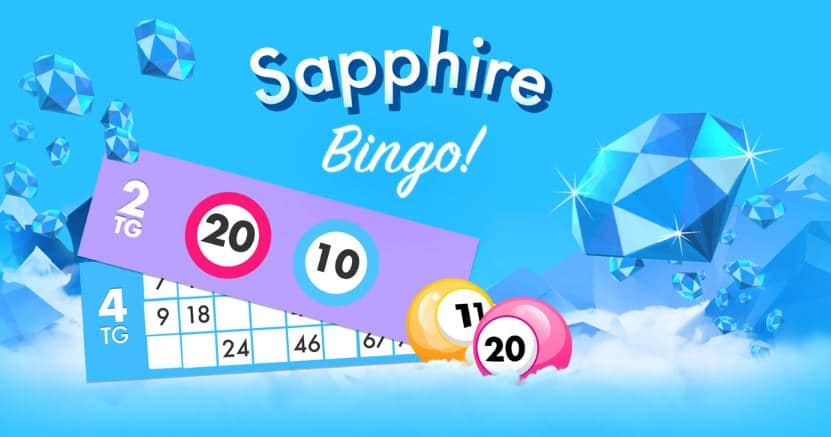 This is one of the most generous bingo games on Jackpotjoy which regularly pays out more than £50,000 to its community members. With excellent progressive jackpot programs, exciting bonuses, stunning graphics, and fun chat rooms, Sapphire has got everything to be a top bingo game.
A 90-ball bingo game, you need to get as many numbers as possible marked off from the ticket. You will win if you mark at least one life from your card. Should you get a full house, you stand to win big. You wouldn't be manually marking the numbers off anyway. All of this has been automated for you.
Buying the ticket is easy and you can purchase them by hitting the "Buy Tickets" button. It is advised to buy at least ten tickets, since the more tickets you buy, the higher your chances of winning. Afterward, all you need to do is sit back and watch the game progress.
The progressive jackpot is highly sought after. To win this jackpot, you need to complete your card within 38 calls. With a healthy RTP between 80.99-85.45%, you cannot afford to miss this bingo game while you're on Jackpotjoy.
How To Sign Up On Jackpotjoy?
The registration process is easy on Jackpotjoy. You simply need to visit the Register Now page and fill out the required form. It'd ask you your name, address, DOB, and currency (which is only GBP and Euro at the moment). It takes less than five minutes of your time and you can start playing after making your first deposit.
It has a current Jackpotjoy welcome offer of 30 free spins or £50 of free bingo tickets once you play an equivalent amount of £10. The rewards are credited instantly.
New members only, must opt in. Min £10 deposit & wager. 30 day expiry from deposit. 18+. Free Spins: on Double Bubble. 1p coin size, max lines. Bingo: Advertised ticket value based on £1 tickets. Game availability & restrictions apply.
Jackpotjoy Frequently Asked Questions (FAQ)
Is Jackpotjoy legit?
Jackpotjoy is owned by JPJ Group which also owns Gamesys software brand. It is regulated by Great Britain under Gibraltar Gambling Commissioner.
Is Jackpotjoy only limited to bingo games?
No. You can find a range of table and slot games. Jackpotjoy started as a bingo-only platform but now is an all-round casino platform.
Is a mobile version available?
Yes, there's a mobile app that can be download for both Android and iOS devices. This is free of cost.
Published by Victoria |
20-04-2020